EPSON Projector Lamps

EPSON Projector Lamps
If you are unsure whether you will be able to manage the lamp replacement process on your own, watch this short video tutorial explaining the process for a EPSON projector.
Select the model of EPSON projector, that you need a replacement lamp for.
EPSON lamps for projectors according to product ID
Couldn't find the model of your projector?
If the lamp for your projector model is not available, contact us, and we will try to find an alternative replacement lamp for you as quickly as possible.
Check out how to replace the lamp in your EPSON projector
In this short video tutorial, you can learn how to take out the original lamp from the EPSON projector and correctly install the new one.
For Epson projectors we have on offer original and generic lamps, either with the lamp housing or without. We also offer dual packaging of original lamps for double-lamp models. Prices for Epson lamps start at 81 EUR (excluding VAT) for generic bare bulbs, 90 EUR for generic lamps with housing, or 100 EUR for original lamps with housing.
As of late, even forgeries of original lamps with housing have appeared on the market. An original box is sealed with a white sticker so that the box cannot be opened without breaking the seal. Lamps designated for the European market are marked with a silver hologram on the box and the lamp.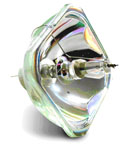 Without exception, original lamps with housing use bulbs with the UHE marking. Also, name brand bulbs such as Osram, Philips, and Ushio, are a suitable alternative to original lamps with housing for Epson projectors. Please write any brand preference you might have in the order notes.
Generic lamps are made by UHR, codalux, APO, etc. These lamps are often completely unmarked.
When buying an original lamp without housing, most lamps are sold with the connector, although sometimes it is necessary to use with connector from the original lamp. Epson lamps are AC, but even so, we recommend always to keep the original lamp connector.
Most projector lamps have a parabolic (roughly semi-circular) reflector shape. This causes some light to escape from the optical system and to go unused. Epson projector lamp technology "E-TORL" (Epson - Twin Optimised Reflection Lamp) uses an elliptical reflector shape which more effectively directs light to where it is needed, while using a second smaller reflector to further reduce escaping light. As a result, lamp efficiency increases by 20%. This is the reason why Epson projector lamps are brighter than other lamps of the same size or can achieve the same brightness with a smaller lamp. The E-TORL construction also allows for more effective cooling, which results in an extended lamp life and quieter running of the projector.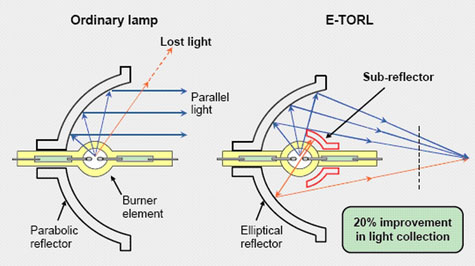 Zdroj: epson.com.sg
FAQ
We are here to help you
choose the right lamp!
Feel free to contact me with any questions or concerns

Amanda Bell
customer service
Contact me